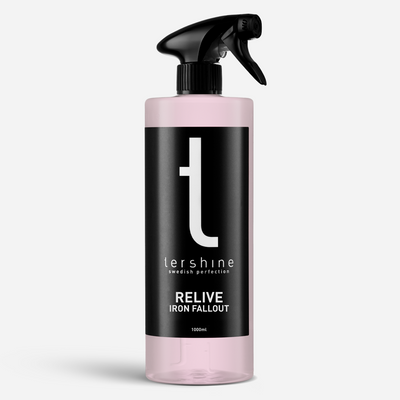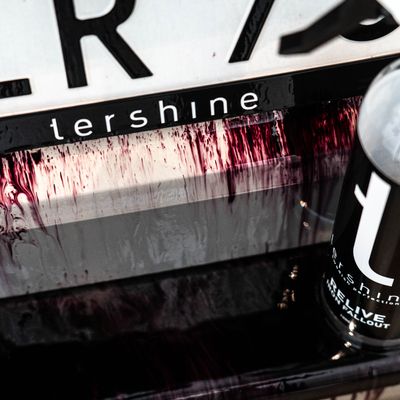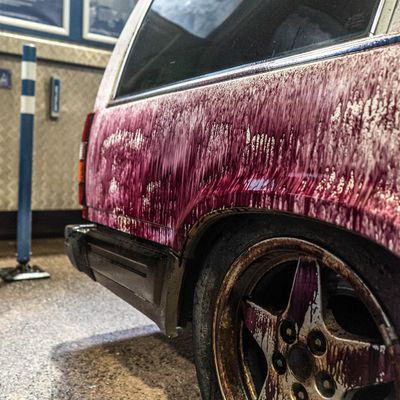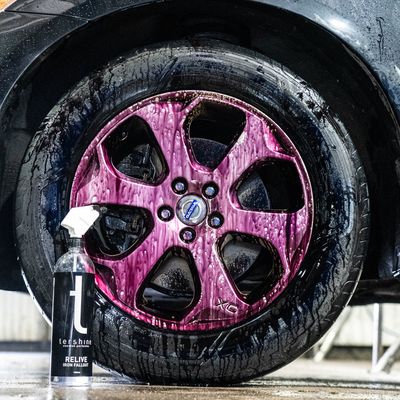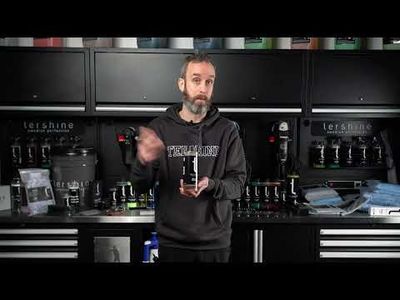 Relive - Wheel Cleaner
Relive is an almost unbelievably effective iron fallout remover. It reacts to metals from brake dust as well as fly rust and dissolves them within minutes. The product is pH neutral and acid free which makes it work on most types of paint, plastics, metals (even polished), alcoa etc. Now in an updated version (drier, smells less and even more effective). Also available in 5 -litre pack separately on the side. Press here!
Low viscosity to maximise product evenly across the surface for uniform processing of brake dust or fly ash. It also has cleaning properties to remove "normal" dirt at the same time. It really is an insanely effective product that makes wheel cleaning a pleasure after a hard day on the track or after a lovely turn on winding back roads. The product changes colour to purple when it's ready to be rinsed off, normally about 2-5 minutes after application. Don't forget to shake the bottle before use. Works great on paint aswell! Remember that the product (including the degreasers) should stay on much longer when it's below 10 degrees or the paint is really cold. Contains no high fluorinating substances!
Always be careful on "home painted" surfaces (spray can, no clear coat, etc). It rarely tolerates chemistry very well! Of course, rims/brakes must be cold! Then if you have a car with ceramic discs, it's pretty much always enough to just run the high pressure and some shampoo. Biodegradable and contains no high fluorinated substances (PFAS)! Can be diluted with water, I don't have exactly what works best but do as usual, lab (but around 50/50).
Another thing about most Iron Fallout products is that anodised wheel bolts, nuts etc if they are really hot can be damaged, this is however extremely rare but has to do with hot surfaces and a cheap form of anodising. But is just like above, never wash the rims when they are hot!
Also available as 1-litre! That bottle is slightly rounded at the top to fit your hand on the trigger. I tried one as thin as my 500ml (but 1l) and it didn't feel good at all, even though it was nicer.

Store frost-free.
Safety data sheets are available on request.


Contains: 5-15%: anionic surfactants, nonionic surfactants, sodium mercaptoacetate. Preservative: Sodium - Hydroxymethylglycinate. Fragrance: perfume, citral, limonene.- Sodium Thioglycolate; p-Cumenesulfonic acid sodium salt
WARNING: Harmful if swallowed or in contact with skin. May cause an allergic skin reaction. Causes severe eye irritation. Wear protective gloves/protective clothing/eye/face protection. IF SWALLOWED: In case of discomfort, contact Poison Information Centre/Physician. IN CASE OF SKIN CONTACT: Wash with plenty of water. IN CONTACT WITH EYES: Rinse gently with water for several minutes. Remove any contact lenses if it is easy to do so. Continue rinsing. Remove splashed clothing and wash before reuse. Return contents/container to hazardous waste facility. UFI: QX50-30DU-A00D-GJWX.
Store out of reach of children and in a dark, frost-free place.